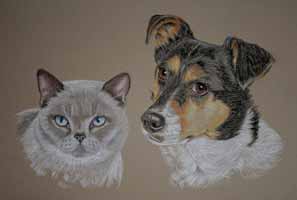 Miya and Jaz



Appologies to Jaz for putting him on the cats page!! Sally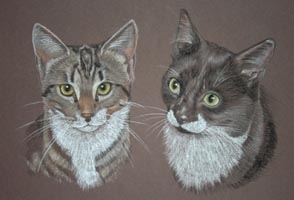 'Meg and Molly'
Simon - Please email your comments to sallylogue@aol.com

'Rory and Celtic'

The portraits are incredible, very expressive, especially Rory's pout!
We lost Celtie, aka Celtic Fire, our oldest Aby, to kidney disease on 23 Feb 07. She was a former CFA Champion and empress of all she surveyed, our Maureen O'Hara in a fur suit with her red fur and emerald eyes. She went peacefully, purring almost until the end, her head cradled in my hand.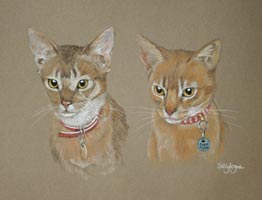 Phoenix and Dawn

The portrait's incredible.....I really thought that Phoenix was going to be hard to capture...but you've really caught that elfin grace that both he and Dawn have.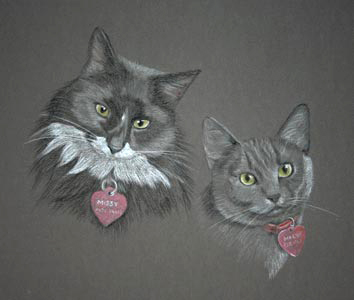 'Missy and Macy'

Ian loved the portrait of Missy and Macy, which I managed to save until Christmas Day ! He cried, which I knew he would, and was staggered at the likeness that you achieved. In my opinion I was only able to send you poor quality photos but you have captured their look and character so much that your portrait is like seeing them in real life. We now have a lasting reminder of our cats who we lost in June so thank you from the bottom of my heart..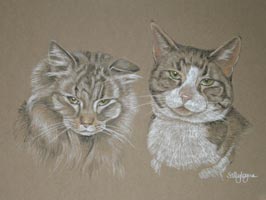 'Billy and Oliver'
Thank you so much for the wonderful portrait of Billy and Oliver. You have captured both their personalities perfectly. Oliver had to be put to sleep a couple of weeks ago so it is a wonderful reminder of him and the happy times we all had together. This is a Birthday present for my Husband and I just know that he will be just as delighted as I am when he sees the portrait of them both. I will certainly recommend you to family and friends - dealing with you has been quick, easy and a pleasure - Many thanks once again - it brought tears to my eyes!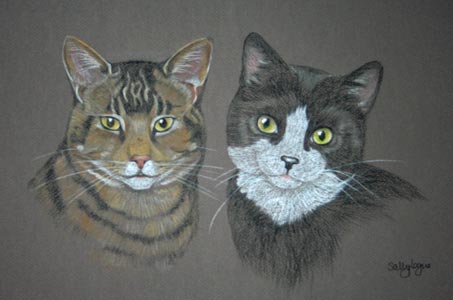 'Bill and Ted'
I am overwhelmed by the accuracy of Bill and Ted's portrait. I had read on so many customer comments how much better the pictures are on paper rather than on screen and I have to agree 100%. This is just how I wish to remember Bill bright eyed with a hint of mischief and as for is brother Ted he's very serious... Fantastic!!!!
I have shown my colleagues at work the picture and everyone is amazed and incredibly impressed by your talent. I can't thank you enough and will recommend you to anyone requiring such skill.