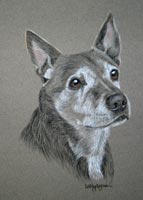 Rosie
Back to Dog Portraits Gallery 32
The portrait of Rosie is lovely...
..you have especially caught the look in her eyes that appealed t at the rescue centre. We only had her for three years and now can have her with us for many more.
..we smile every time we look at her because you have caught her likeness so well.


Click here to read more Customer Comments