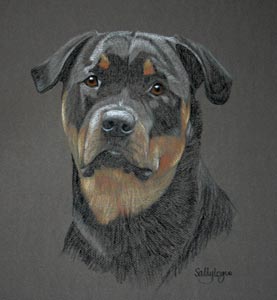 Amber
Back to Dog Portraits Gallery 37
I just wanted to let you know that we gave Karen her portrait of Amber
yesterday and she was absolutely thrilled to bits with it. She had no idea that we had been planning she was completely surprised. She couldn't believe how perfectly you had captured Amber's expression!
Thank you once again for doing such a great job. Even the man in the framing shop commented on what a great picture it was...I think he has framed some other works of yours and said they seem to get better every time!
Hopefully we'll be in touch again in the future for more great portraits. In the meantime, we are distributing your cards for others to take advantage.

Click here to read more Customer Comments