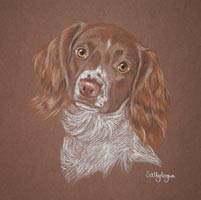 Bracken
Back to Dog Portraits Gallery 37
Sally you've done it again !! This is my second portrait in as many months and the resemblance on both is amazing. It's almost worth having more pets so I can have more of your work.
I would just like to reiterate my many thanks to you for the highly detailed and high quality work you have produced for me over the past couple of months.

When I first got my hands on "Otis" I was amazed at the likeness and character captured within the drawing. This pleased both myself and my girlfriend, whose parents cat he is. To be honest I was a little apprehensive awaiting the completion and arrival of "Bracken". I was sure that although the result would be impressive, it may be overshadowed by the quality of the "Otis" drawing. My apprehension was completely unfounded as when "Bracken" arrived the result was equally as impressive and just as highly detailed.

I have spread the word as to how impressed I have been with your work to anyone and everyone who will listen, including a couple who actually show standard poodles.
Neither my girlfriend nor I can wait to see the look on our respective parents faces when they open their pictures on Christmas day. I foresee many tears of joy.
Once again many thanks, Keep up the great work and I hope to place future orders with you
Click here to read more Customer Comments