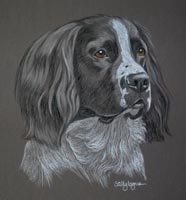 Mac
Back to Dog Portraits Gallery 32
....absolutely fantastic!!!!
... my mum loved the
portrait of Mac ( it was a birthday present for her) she had no idea that we were doing it for her and was so surprised!!!!!
It even brought a tear to her
eye and she has invited everyone round to see it and they all think it is fantastic and so like him.
We also just recieved the cards and keyrings which are brilliant too
Click here to read more Customer Comments