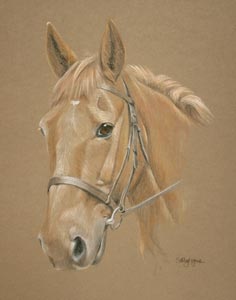 Oscar
Back to Horse Portraits Gallery 5
What can I say other than thank you so very much, tonight has brought back so many fantastic memories of days spent with Oscar and Iwill treasure this picture forever.

You have capture the features I loved so much about him perfectly even down to the hair in his ears. I really can not thank you enough for this superb picture.
I thought the picture I previewed on the website was amazing but to see the original was just fantastic, the picture on the website it great but I can't put into words the difference to have the original, the detail and texture makes it look so real, I just can't take my eyes of it.

Oscar was an amazing horse and gave myself and my little sister hours of joy as we grew up, he is very sorely missed and will never be replaced , I think we would be very hard pushed to find another horse as special as him.

Click here to read more Customer Comments