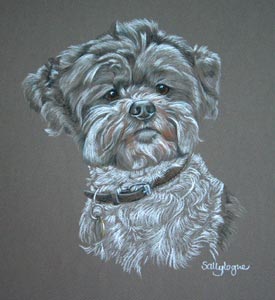 Lhasa Apso - Our Benji
Back to Dog Portraits Gallery 42
Benji, along with his owner and his portrait appeared in an article on
Pet Portraits the Daily Mail 3/12/ 2007
We are absolutely thrilled to bits with the finished portrait. We can't thank you enough for your excellent work in painting him as you have captured him perfectly. It is such a true likeness that we wonder at your talents.
In Loving Memory of Our Benji
Benji brought so much joy, peace, fun, mischief and love to our lives and
filled every possible corner of it. He was 'Boss' and we will always love and miss 2007, he was 14.
There is so much to say about "Our Benji" that it is difficult to find the right words. He was such a star and so intelligent, I mean how many dogs would use the bath when they are going to be sick or have the runs, appear in 2 million holiday brochures, on Tyne Tees TV and finally with your help make it in to the Nationals.

We would like to pass on our sincere thanks for the wonderful portrait
that you have painted which is all the more precious to us now and to thank you for the opportunity of bringing fame to his life.

Click here to read more Customer Comments