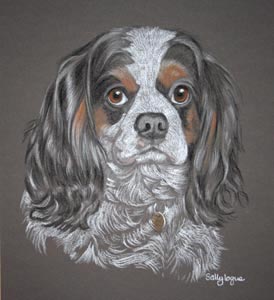 Portrait of Sophie
Back to Dog Portraits Gallery 48
This is Sophie !! This is the way she will be in my mind's eye forever. I was lucky to catch her just so in a photograph, and the portrait is perfect. It is a surprise present for my wife for her birthday - she will be absolutely delighted.
Today was my wife's birthday and this morning I presented her with the portrait you had completed for our Cavalier 'Sophie'.

She was so delighted, she cried with joy.

Thank you very much once again.
Click here to read more Customer Comments