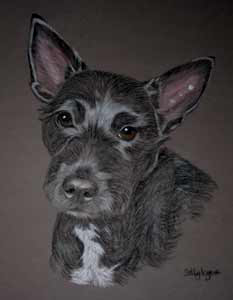 Terrier cross - Mokey
Back to Dog Portraits Gallery 54
A wonderful likeness of our dear departed Mokey to add to our cherished memories. Thank you Sally for pulling out all the stops to have it ready for a special occasion.
Just to let you know that Mokey's portrait is a resounding success! We both agree that you have captured his 'essence' beautifully.

Thank you once again for all your splendid efforts.
Click here to read more Customer Comments