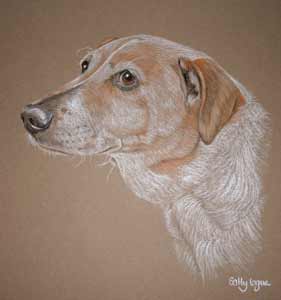 Portrait of Trixie - Jack russell type terrier

Back to Dog Portraits Gallery 55
I gave Anna Trixie's portrait for Christmas and she loved it. And so do I. It really does capture what Trixie is all about - that air of expectation and excitement, those inquisitive eyes. Sometimes Trixie sits next to it and as your eyes go from one to the other and back it is uncanny. We will not forget Trixie, but this portrait will always remind us just what she was like and why she is so loved.
Click here to read more Customer Comments