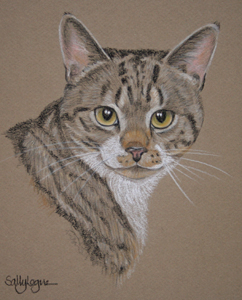 Back to Cat Portraits Gallery 8
That is absolutely amazing!! It is just him! I can't believe the detail, right down to the little tips on top of his ears! Nicola will be absolutely delighted with it, so thank you very much! Thanks again Sally, it really is fantastic! Dan
Nicola Davenport I am so pleased with the portrait of Jaxon, thank you so much Sally! The likeness is unbelievable & I can't wait to get it framed and in pride of place in my living room!
Pet Portraits by Sally Logue Thank you Nicola, I know Dan couldn't wait to see your face! Hope to hear from you again someday!
Dan Watson As you can see Sally, she loved it!! Thanks again!
Click here to read more Customer Comments