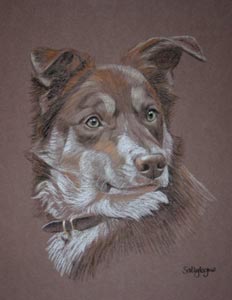 Jess
Thank you very much it looks lovely......
you have done a fantastic job, you are a star!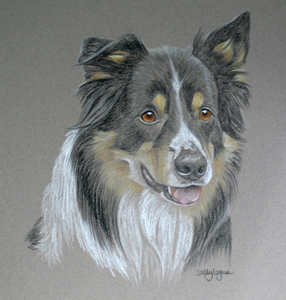 Tye
The portrait of my border collie Tye is absolutely excellent.
It captures him perfectly.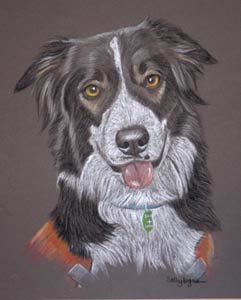 Dottie
Dottie is fabulous - thanks so much - I'm really
proud of her - she is now an operational
Lake District Mountain Rescue Search Dog
and this picture will be a lasting memory
of her at the beginning of her working life

Border Collie Portraits by Sally Logue
Search the Dog Portrait Galleries for more Border Collies
Breed Information - Border Collies
The Border Collie is usually recognised by its distinctive black and white coloration although there are several colour types. This graceful breed of herding dog displays agility and stamina. His hard, muscular body has a smooth outline which conveys the impression of effortless movement and endless endurance - characteristics which have made him the world's premier dog for working with sheep.
Border collies are energetic, alert, highly intelegent and eager to learn. Loyal and affectionate to friends but sensibly reserved towards strangers.
A standard was not approved in Britain until 1976, but the dog has long been valued by farmers in the border region between England and Scotland, hence the name.
Border Collie puppies have a short, soft, dense, water-resistant coat that becomes the undercoat in adult dogs.