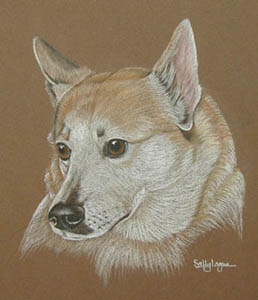 Oushka
Norwegian Buhund Portrait by Sally Logue
Search the Dog Portrait Galleries for more Norwegians buhunds
Search for Breed Information - Norwegian Buhund
The Norwegian Buhund belongs to a large class of dogs called the Spitz type. They all have in common the prick up-ears and a curled tail. There are many variations in size, coat and colour among the Spitz breeds.
In the ancient Gokstad excavation in Norway, where a Viking grave from about the year 900 was opened, skeletons from six dogs of various sizes were found. They would be the representatives of modern-day Buhunds.
When Vikings died, their most cherished and necessary possessions were buried alongside their owners. This was to care for the Vikings in their afterlife. Then these Buhunds who protected farms (bu) and herded cattle and sheep were expected to continue these duties in the afterlife.
It has been documented that these dogs travelled with Vikings on their many journeys, by sea and by land. The more refined, beautiful type we see today were nurtured in the rainy western coastlands of Norway where they herded sheep and guarded farms.
Due to the initiative of Norway's state-counsel, John Saeland, the first Buhund show was held at Jaeren in the 1920's. The Norsk Buhundklubb was established in 1939. Toralf Raanaas was the first president. These men selected the very best for show, breeding and workability.
Besides working ability, Buhunds are trained to aid the hearing handicapped, perform some types of police work, and score well in obedience and agility trials. In olden times they hunted bear and wolf. Today they work with livestock and guard home and family.
The Buhund is considered by many researchers to be the easiest of the Spitz breeds to train due to their innate desire to please plus a quick learning aptitude. Their Spitz independence is an asset if they have to be left alone for awhile.