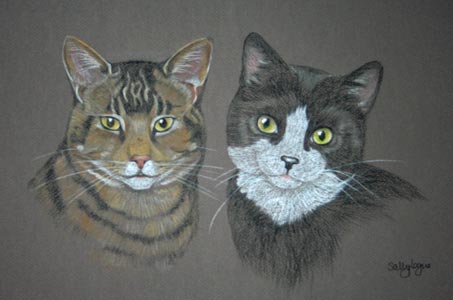 Ted and Bill
Back to Cats in Double Portraits Gallery 3
Click here to read more Customer Comments
... my 2 favourite boys, I am overwhelmed by the accuracy of it...
I have just picked up Bill and Ted and can't tell you how overwhelmed I am by the portrait. I had read on so many customer comments how much better the pictures are on paper rather than on screen and I have to agree 100%.

This is just how I wish to remember Bill bright eyed with a hint of mischief and as for is brother Ted he's very serious... Fantastic!!!! I have shown my colleagues at work the picture and everyone is amazed and incredibly impressed by your talent.

I can't thank you enough and will recommend you to anyone requiring such skill.