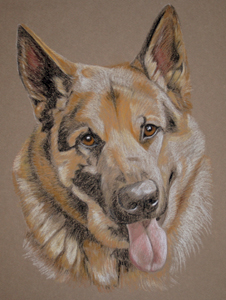 GSD Portrait - Ben
Back to Dog Portraits Gallery 61
Just to let you know Ben's portrait arrived safe and sound this morning. It is absolutely beautiful and captures him completely. We all had a good cry but they were good tears.
Ben was a huge dog, he was very calm and collected (unless another dog came near him)! and had house manners better than most people I know. The reason I tell you this is because you have captured all that in the portrait. He worked for Merseyside Police until he was medically retired at 3yrs old due to recurrant ear problems that affected his ability to work and concentrate, we took him and had the most fabulouse 7yrs in his company.
As you know we lost ben to cancer November 19th 2009 and we are still comming to terms with not having him around.
My sister who works for the police took the portrait into work to show the officers who were in the dog section when Ben was working and they were flabbergasted at the likeness, you captured his eyes completely, I still cant get over it.
Click here to read more Customer Comments
To let your friends see this this page, please copy and paste the following link into your blog, email, webpage or social networking: