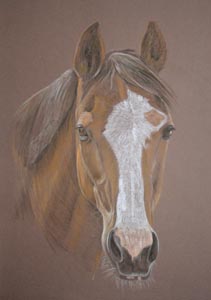 Back to Horse Portraits Gallery 8
Matty's portrait is absolutely fantastic - you have caught the old boy's personality exactly. J.H.
What can I say, other thank you so much for the superb portrait of Matty, I cried Christmas morning when I opened it, there was no doubt in who was looking straight back at me with those lovely soft eyes. Matty and I had been together nearly 21 years and had so much fun, I will never forget him, and now I have such a beautiful portrait of him that I can look at everyday. Jayne
Click here to read more Customer Comments
To let your friends see Matty's Portrait please use this link in your email, blog, webpage or social networking.