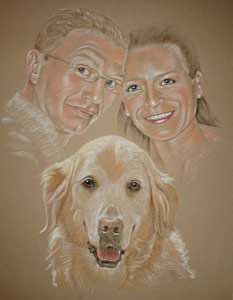 Nathan Karen and Oscar
Back to Portraits of People with Pets
Oh my goodness!!! Sally the portrait is absolutely amazing. The preview picture on the computer was fantastic, but to actually see the 'real' thing was out of this world.

I am amazed at how well you have captured us all. I cannot stop looking at Oscar; the eyes and expression are just him. I am going to the picture framers this morning and ca\'t wait to show it off. I was so excited when I opened it that I just couldn't wait to give it to my husband who, as you know didn't have a clue I was having it done. Well 'surprised' is an understatement. He just sat there and stared at it for a good while. It was meant to go in his office but we both agree that it needs to take pride of place in the lounge for all to see.
Thank you so much Sally.
Click here to read more Customer Comments
To let your friends see this this page, please copy and paste the following link into your blog, webpage or social networking:
Nathan Karen and Oscar's Portrait