The information below was kindly compiled by Sophie's owner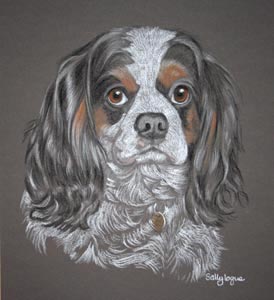 History of the breed
Although so many dogs no longer carry out the job for which they were bred, e.g hunting, guarding, chasing, herding, etc., Cavalier King Charles Spaniels still do the job they were bred for superbly. And willingly. They were originally bred to be companions and to warm up the laps of their owners in cold castles and carriages.
Only 5% of the world's dogs have been bred as lapdogs and the Cavalier must be the top lap dog of all time.
During the days of Elizabeth 1st, small 'toy' spaniels were common as ladies' pets, and many famous and royal families had their portraits painted featuring the little dog with flat head, a pointed nose, floppy ears and the beautiful round, almond eyes.
But it was King Charles ll who gave them the royal title of King Charles Spaniels, and was seldom seen without several in tow.
Breeding in later centuries saw the breed changed to that with an almost completely flat face, domed head and larger eyes, probably the influence of Pugs and Japanese Chin dogs that were in vogue during that period.
This appearance is that of today's King Charles Spaniel breed, whilst the old facial features favoured by the Tudors and Stuarts became almost extinct.
In the 1920s, an American named Roswell Eldrige, most disappointed to find none of the 'old' breed in existence in England, offered twenty-five pounds as a prize for any King Charles Spaniel "of the old-fashioned type" with a longer nose, flat head, etc. So, the breed was developed by selective breeding of short-snouted Spaniels. The result was a dog that resembled the pets of Charles 11 ("Cavalier King Charles"), from which the breed derives its name – Cavalier King Charles Spaniel.
Although the breed took many years before gaining widespread acceptance, the CKCS was well and truly on its way in 1963 when a Cavalier won the Toy Group at Crufts

Appearance.
The chief characteristic of a Cavalier's appearance is the graceful, well-balanced action.
The average height and weight of both sexes is between 29 and 33 cm (12-13 inches) with between 4.5 and 8.5 kg (10 and 18 lbs).
Cavaliers come in four colours:
Blenheim : A rich chestnut on a pearly white.

Ruby : A rich red colour all over.

Tri-Colour : Predominately black and white, but with tan markings over the eyes, at the sides of the face, under the ears and tail.

Black and Tan : Predominately black with tan legs, tan eyebrows, and tan at the sides of the face and under the tail.
Care
Cavaliers have a tendency to become overweight so should not be overfed. They have such beautiful eyes that it is difficult to refuse them that extra titbit. One meal per day with a bedtime biscuit should be sufficient.
They do not require a great deal of exercise, two to three walks per day of 30 minutes or so is sufficient, although they enjoy being out longer if possible to meet other dogs and people to socialise. Indeed, the extremely social nature of the Cavalier means that they need almost constant companionship from humans or other dogs, and are not suited to spending long periods of time on their own. Some breeders refuse to sell puppies to potential buyers unless somebody is at home for most, if not all of the day.
A Cavalier's coat may become quite long and it is very important to keep it well groomed. Daily brushing is recommended to ensure that the coat does not get matted and that twigs and sticks do not become entangled. This applies particularly to the ears, which get untidy very quickly !
Unless they get dirty or smelly, they only require bathing about every month to six weeks.
They live for between 9 and 15 years and have litters of 4 on average.

Temperament
They are reasonably intelligent and many Cavaliers have gone on to become quite proficient at obedience and agility classes, but most do not progress as far as other more 'intelligent' breeds. Care should be taken to ensure they are properly trained to 'come back' before letting off the lead – otherwise you may be in for a long chase.

They are gentle and never aggressive in any way. They are very loyal and love cuddles and comfort, consider your seat/pillow/lap to belong to them, and love to be touched and smoothed.
Most dogs of the breed are playful, patient and eager to please. As such, they are usually good with children and other dogs. A well-socialized Cavalier will not be shy about socializing with much larger dogs as they assume all other dogs to have the same temperament as them. However, with this tendency, there is always the attendant danger of aggression from some breeds.
Cavaliers need human contact, and do not do well in kennels. Behavioral problems can result from too much time without contact, so much so that they may appear to have been abused. Visits to kennels are should be restricted to two or three nights only.
They do not make good guard dogs ! They may bark at first, but their wish to please and be liked will not prove a great deterrent for intruders. They love to be with people and some believe them to be the 'closest' dog breed of all to human beings.